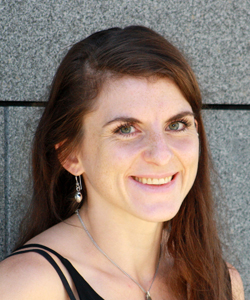 Helena
Aicher
Phone: +41 44 635 72 63
Room number: BIN 3.B.24
Short biography
After studying sports science at ETH Zurich, Helena attained a Bachelor of Science in Psychology (with a minor in business administration) from the University of Zurich. She wrote her bachelor's thesis on values and wellbeing in adolescents at the department of personality and assessment, which opened up the opportunity to work there as research assistant during her master's in psychology (University of Zurich). Additionally, Helena tutored on behalf of the department of psychological methods, evaluation and statistics, and conducted a clinical internship at the University Psychiatry Zurich. At the psychiatry, she joined the department of neuropsychopharmacology and brain imaging, where she integrated her knowledge on positive psychology concepts, while investigating the effects of psychedelic substances and meditation on healthy human subjects with a focus on emotions and other psychological parameters. She is co-founder of reconnect-foundation.org, aiming at advancing the research on psychedelic substances. As a doctoral student, she is now running a study on AR-induced disembodiment and its effect on mood supported by a ZNZ research grant. Helena has a daughter. She loves being in the mountains, the forest, in and on the water.
Research interests
Consciousness and altered states of consciousness, including plasticity of the bodily self and phenomena such as disembodiment (e. g. induced by psychedelics, meditation, VR, AR, dreams).
The relevance of alterations in consciousness states and the bodily self for mood disorders.
Psychological and neurophysiological processes underlying transformational psychotherapy approaches, such as peak experiences, disembodiment and cognitive flexibility.
Publications
Jungaberle, H., Thal, S., Zeuch, A., Rougemont-Bücking, A., von Heyden, M., Aicher, H., & Scheidegger, M. (2018). Positive psychology in the investigation of psychedelics and entactogens: A critical review. Neuropharmacology, 142, 179–199. doi:10.1016/j.neuropharm.2018.06.034
Krähenmann, R., Pokorny, D., Aicher, H., Preller, K. H., Pokorny, T., Bosch, O. G., Seifritz, E., & Vollenweider, F. X. (2017). LSD increases primary process thinking via serotonin 2A receptor activation. Frontiers in Pharmacology, 8, e814. doi:10.3389/fphar.2017.00814